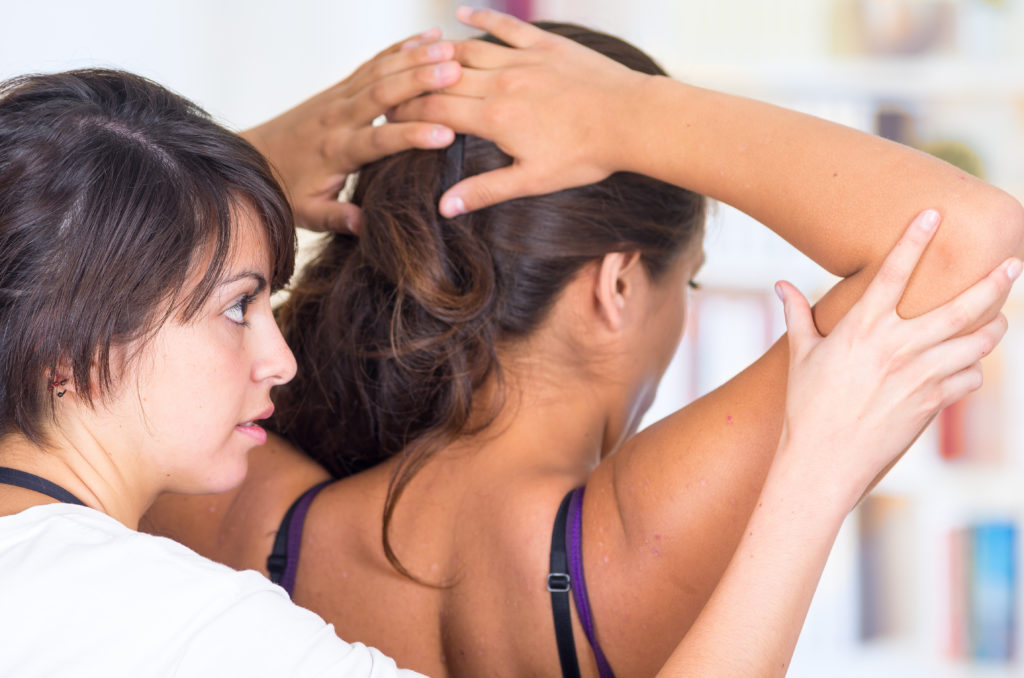 The NBCE Part IV Exam consists of two sections and each of the sections is divided into stations.
The Two Sections Are:
Chiropractic Technique
Case Management
See the Part IV exam video.
There are two versions of this exam:
You will automatically be assigned the version of Part IV you are eligible for when you apply.
The updated version without Diagnostic Imaging is outlined on this page. When you see 'without DIM' on your application, this is the exam you will be assigned.
The 'original' version with Diagnostic Imaging (DIM) – Will be indicated on your application as 'with DIM'.  That test plan is here.
Chiropractic Technique
The Chiropractic Technique Exam will consist of five stations with five minutes allotted to complete each station. You must complete each of the five stations within the allotted time. There will be a one-minute and 30-second passing time between each station.
⊕ At each station, you will be provided with a written description of two vertebral or extremity listings. The instructions will include the two chiropractic techniques to be demonstrated, points of performance that will be evaluated, the required patient position, doctor hand contact and segmental contact.
⊕ You will place the patient as instructed and set up for the adjustments in a manner that is consistent with the written instructions and appropriate for the vertebral or extremity listings described in the written instructions.
Note: Following each adjustment, you will be required to interact with the examiner to verbalize your line of drive.
⊕ You will be evaluated by an examiner (licensed chiropractor) on the points of performance described in the written instructions.
Case Management
The Case Management Exam consists of 20 stations (10 Simulated Patient Encounters and 10 (PEP) Post-Encounter Probes), in which you will be required to carry out certain activities or answer questions related to a clinical case. You will have five minutes to complete each station. There will be a one-minute and 30-second passing time between each station. You must complete each of the 20 stations in the allotted time. At each station, you will be required to perform one or more of the following activities:
Perform a brief (focused) case history
Perform a brief (focused) physical examination
Perform a brief (focused) orthopedic/neurological examination
Choose the most likely diagnoses and/or clinical impressions
Choose the most appropriate case management procedures
Choose the most appropriate orthopedic/neurological tests to perform
→ At stations where you are asked to perform a case history, physical examination, or orthopedic or neurological test, you will be observed by an examiner (licensed chiropractor). You will perform these tests/procedures on a patient who has been trained to simulate a clinical condition. You will be evaluated on your clinical skills, as well as your ability to communicate with the patient. You will be expected to treat the patient as you would treat a patient in your own practice. You will respect the patients' dignity at all times.
→ The case history stations are case specific. You will be evaluated on your ability to fully explore the parameters of the patient's condition and to elicit specific clinically relevant elements of the history from the patient. This specific historical information enables you to form a clinical impression and to rule in or rule out conditions of a similar nature or with similar presentation.
→ The examination stations involve demonstration of clinical tests and procedures on patients who exhibit physical signs and symptoms of specific conditions. You will be evaluated on your ability to perform these procedures within the context of a specific case, and your ability to elicit all necessary clinical signs and symptoms from the simulated patient for each of the procedures demonstrated.
→ Certain stations may require you to interact with the examiner to explain the clinical significance of a procedure or to report the examination findings of a procedure. This will be specifically explained in the station instructions, and the notation (verbal component) will follow the named test or procedure. You will perform the procedure on the simulated patient and then follow the instructions for the verbal component.
→ At the Post-Encounter Probe (PEP) stations that immediately follow the simulated patient stations, you will be required to answer two questions related to the clinical condition exhibited by the patient. At these stations, additional clinical information related to the case will be provided.
Time is very important in the Case Management Exam. Five minutes will be allotted to complete the required tasks at each station. One minute and 30 seconds will be allotted to pass from one station to the next. You will move from station to station upon hearing an audible/verbal signal. When the signal is given, you will immediately move to the next station.
Note: Success in this exam will depend on your efficient and skillful performance of the required tasks, as well as on the effective use of the allotted time.
Who Can Take Part IV?
You are eligible to apply for Part IV if you have passed all subjects of Part I.
You must also be within six months of graduation or a graduate of an eligible chiropractic college.
See

 

additional eligibility requirements

 

if you have graduated, or are retaking Part IV.
What Topics Are Included In Part IV?
The NBCE develops every exam based on a test plan. The detailed Part IV Test Plan includes detailed descriptions of each section of the Part IV Exam.
Test Sites and Test Site Rules
NBCE Part IV administrations are offered at chiropractic colleges across the country twice a year.
Each test site is limited in the number of examinees it can accept, so submit your paid application early.  When you submit your application, choose your top four test site locations in order of preference. You may update your site preferences until the application deadline. Site assignments are prioritized based on your completed application submission and the date payment is made for the exam. All assignments are final. If all your site choices have reached capacity, the NBCE will attempt to assign you to the closest available site. The assigned location may be cancelled until the withdrawal deadline. See the complete list of Test Sites, and Test Site Rules.
Exam Administration Dates
The next Part IV exam is scheduled each May and November. Approximately eight weeks before the exam, the NBCE will post a confirmation that includes your testing schedule. Look for this on your MyNBCE account under My Exams, Exams then scroll down to the Part IV application.
| | | |
| --- | --- | --- |
| Administration Dates | Application Deadline | Exams Offered |
| May 18-19, 2024 | February 15, 2024 | Part IV |
| November 9-10, 2024 | August 15, 2024 | Part IV |
| | | |
| | | |
What Is A Passing Score For Part IV?
The NBCE recommends a passing score of 375 or above on the Part IV Exam. Each state has the authority to establish and recognize its own standard for passing Part IV. If a passing score is not achieved, confirm your rescheduled exam and you may request a written performance analysis.
Fees
Withdrawal / Cancellation Policy
Exam Withdrawal
The NBCE will accept your written request to withdraw and issue a full refund if your request is received by the exam withdrawal deadline. Please contact the NBCE at support@nbce.org for more information.
The NBCE will not accept withdrawal requests after the published deadline. You must submit a completely new application with correct fees when you apply at a later date.
I understand that I will not be refunded any of my exam fees if I fail to appear for my exam.
Irregularity/Emergency Cancellation Policy
In the event of an emergency or administrative irregularity, the NBCE reserves the right to make adjustments in exam administration procedures, to withhold the reporting of scores, and/or to order the re-administration of an examination.
An emergency or administrative irregularity might include, but is not limited to, any natural disaster (hurricane, flood, tornado, earthquake, fire, etc.), power failure, technology malfunction, or other facility breakdown, which, in the opinion of the NBCE, could affect the validity of examination scores.
Apply→Get Approved→Pay→Schedule
Your Application Process Starts Here
Headquarters
901 54th Avenue 
Greeley, Colorado 80634